According to the latest market research, the total volume of the worlds demand for pellets is around16,000,000 tonnes for 1 year. It is predicted that by the end of 2020, this demand will increases to 46,000,000 tonnes. Which values USD 8 billion (€5.75 billion). Under the EU's mandate, 20% of energy consumption shall come from renewable energy. Among all the demands, as a clean biofuel energy, wood pellets are seen a dramatically increasing market demand through all over the world because the technology for making wood pellets is mature and the raw material is easy to obtain. In a foreseeable future, it's no doubt that business of making wood pellets is promising and will not out of date. Companies who has access to proper raw materials and who owns large drying capacity are already be active and taste benefits in this area, even more and more wood chips and logs are brought as raw material to make wood pellets.More and more big wood pellet production line were built. Chances never waits for people, so does making money. It's your chance now, build your own pellet plant and start making money today! Do not hesitate now , come on !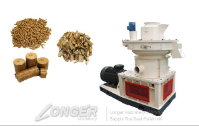 How does a pellet machine work?
Typically, before making pellets, any raw material will require some processes for a better compatibility to pellet machines. Grinding the big size wood into sawdust . For example, if your want to make pellets from round wood, you might need to debark, then resize them further by a hammer mill and reducing the water inside to 15% by a dryer, the flowing section with cooling machine , packing machine .
Why choose us ?
Fristly we have own factory , every part of machine can control and make sure the high quality , design the production line according your require . The motor , reducer use the famouse bran make sure the machine's quality .
We design more than 200 pellet plant for our clients, has encountered many problems , ovecame them , can make sure your proposal is best , most suitable for you ,gurantee the connection smoothly in the complete line .