Cocoa powder is currently very popular all over the world. It is widely used and delicious. Do you know how to make chocolate? If you want to start a chocolate business, you can consider our
cocoa powder production line
.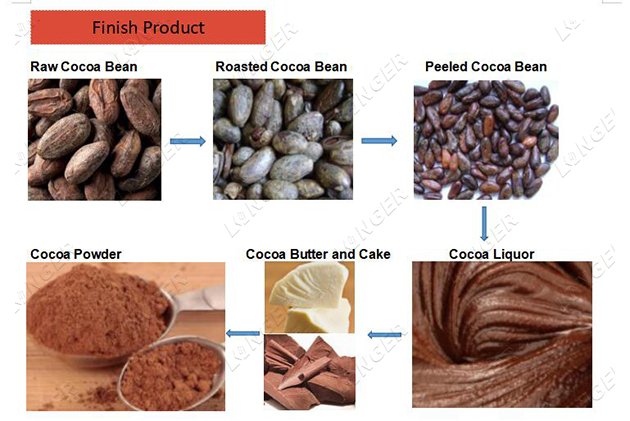 Process of cocoa powder:
Bean roasting machine-cocoa bean peeling machine-cocoa butter machine-hydraulic oil press-noodle grinder
1. Cocoa bean roaster
A garment ironing machine is mainly used for drying and roasting hot products such as peanuts, broad beans, coffee beans, melon seeds, nuts, etc., using the principle of the drum, heat conduction, and heat radiation. It can be used as a heat source in many ways, and the taste of roasting is pure.
2. Cocoa bean peeling machine
This machine is a special equipment for peeling and splitting cocoa beans and coffee beans. It has the advantages of high degree of automation, high halving rate, low noise and no pollution. Use a vacuum cleaner. Vacuuming removes the red skins and processes them into the ideal half-grain. The machine is composed of box material, feeder, screen material, drum, dust collector and so on.
3. Cocoa paste grinder
The basic working principle of the colloid mill is shearing, grinding and high-speed stirring. Grinding relies on the relative movement of two tooth surfaces, one of which rotates at high speed and the other is stationary so that the materials passing between the tooth surfaces are subjected to great shear force and friction force so that the materials are effectively dispersed, floated and crushed.
4. Hydraulic oil press
The fully automatic hydraulic oil press is a small oil press with simple operation, high oil yield and less wearing parts replacement. It is a manual equipment that replaces small grinding sesame oil. The machine is easy to operate, low energy consumption, high oil yield, good oil quality, good taste.
5. Cocoa powder grinder
The machine uses the high-speed relative motion of the movable toothed disc and the fixed sprocket, and through the joint action of the impact, friction and material impact of the toothed disc, the crushed material can be crushed. The machine is simple in structure, firm in structure, stable in operation and good in crushing effect.
6. Powder packing machine
Features: The packaging device of the powder filling machine is a series of independent metering and filling systems. The device is driven by a high-precision stepping motor and equipped with a screw.
After-sales service: During the warranty period, under normal use, if there is any quality problem, we will provide replacement parts for free. We provide lifetime technical support for all machines. If you need, please feel free to contact me.
Contacts: Cara
Email:
[email protected]
Whatsapp|Phone: 0086 13015518550