In September 2022, the 1 ton/h
nut roasting cooling line
jointly built by LONGER and British EF Company was officially put into operation after the successful test machine in Shrewsbury, promoting the innovation and development of large-scale nut roasting and seasoning processing technology. Founded in 2006, EF is mainly engaged in the retail packaging of dried fruits and nuts in the UK, providing a variety of dried fruits and nuts to many major retailers in the UK. With the expansion of business, EF has built a brand-new ready-to-eat nut factory, specializing in deep-processing businesses such as nut roasting and seasoning.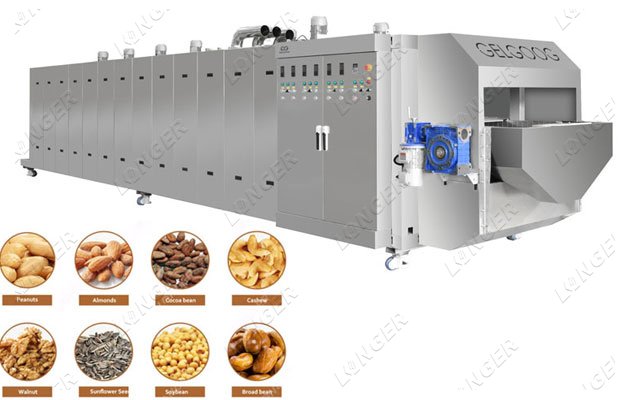 The market for ready-to-eat almonds, peanuts and macadamia nuts in the UK is growing rapidly, with more and more consumers looking for delicious, nutritious products to use as a daily nutritional supplement. Meeting the strict quality standards of the UK requires the use of raw materials with excellent functions. LONGER nut roasting and processing solutions continue to improve new technologies to improve efficiency and quality, pay attention to the roasting process, and retain the nutrition of nuts through the regulation of temperature and mechanical stress Value, product quality and flavor, develop more added value for nut innovation.
During the entire project cooperation process, multiple business departments operated by LONGER formed a special solution team to provide professional and timely pre-sales services and a reliable full-process service experience for EF's technical team.
The key to producing high-quality ready-to-eat nuts without loss of nutrition is the precise control of constant temperature roasting and seasoning process. The main process of the 1 ton/h nut roasting and seasoning solution tailored by LONGER for British EF company includes stone removal, roasting, cooling, seasoning, packaging and other processes. It is composed of automatic equipment for roasting and seasoning processing of nuts, which is suitable for roasting and seasoning processing of various materials such as almonds, peanuts, and macadamia nuts.
When customers buy ready-to-eat nuts in British supermarkets and enjoy them safe and delicious, there may be the efforts and perseverance of LONGER and customer partners.
"We have established a cooperative relationship with LONGER this time. We hope that this cooperation can strengthen our position in the field of ready-to-eat nut processing, broaden our technical application range, and take this opportunity to provide more high-quality products to more customers."