The Grinding Machine for Peanuts,Cashews and Other Nuts
2016-11-08
The commercial peanut butter grinding machine is used for liquid material's precision processing, it integrates the homogeneous machine,multi functional impact mill, ball mill, three rollers mill, shearing mill and mixer etc, it has predominant advantage on superfine grinding, emulsification, homogenization and mixing.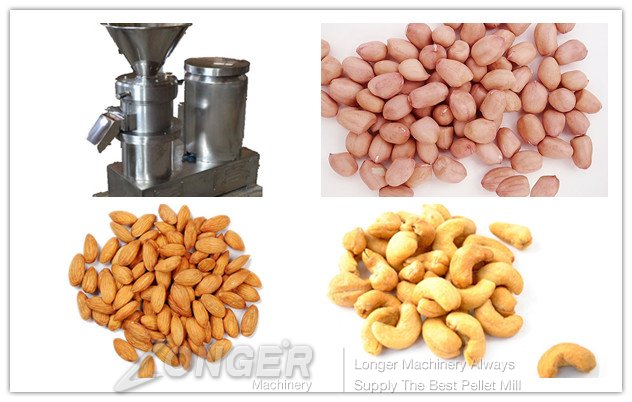 The machine is mainly used for peanut butter, silky, flavor , sweet and salty butter , peppery butter , sesame paste, its biggest advantage is high output.It is determined by the geometry, different rotor rotating in high speed under the relative motion, obtained by shearing, crushing, grinding and high frequency vibration. The crushing chamber is provided with three grinding zone, a grade for coarse grinding, fine grinding area as two level, three level for the attritor area, through adjusting the stator and rotor, can effectively achieve the required a superfine crushing effect. This machine has the characteristics of compact structure, smooth running, low noise, corrosion resistant, easy cleaning, convenient repair. Is currently the most ideal equipment in the wet ground.

Working Principle
This machine is composed of the different geometry of the stator and rotor rotating at high speed under the relative of the relative motion,through cutting, grinding, high frequency vibration and get broken.

There are three methods of grinding zone in the broken room, the first is a thick grinding zone, the second is finely ground area, the third ultrafine grinding zone by adjusting the stator gap will affect the desired effect .

This peanut butter grinding machine has some characteristics such as high degree of automation, great reliability, sealing production and non polluted.The machine have compact structure, smooth operation, low noise, corrosion-resistant, easy to clean, easy maintenance features.