Multifunctional screw oil press machine
is an automatic oil press. It adds heating chamber electrical components and a vacuum filter to clear the oil. Spiral oil press than other ordinary oil press more labor-saving and more effort.
Multi-functional screw press parts: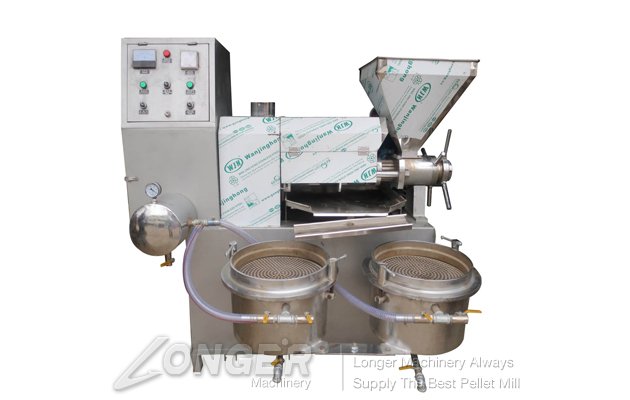 Spiral oil press.Heating room.
electrical components
vacuum filter to clean the crude oil
squeeze the bolt.
heating ring
Multi-function screw press machine
advantages:
All working processes are controlled by the controlling panel
If one drum is full it would change to use the other and automatically put the oil out of the drum.
Before pressing, some parts of the press such as the press chamber, press screw and press ring will be pre-heated.
During pressing, the press can filter the oil in due time. One operator is enough to get quality oil.
Oil yield is higher than common oil press.
Easy to operate and maintain.
Multi-function screw oil press
:
Multifunctional screw oil press machine is widely used in various oilseeds:soybean,cottonseed,rapeseed,peanut,sunflower,teaseed,tung seed, coconut, palm kernel oil, olive and other granular materials; also used in rice bran , Corn germ oil, and other powdered materials; and safflower small wild vegetable oil materials.
Wide range of applications: small and medium-sized vegetable oil suitable size vegetable oil, there are individual plants. Is the ideal machine for oil producers.
Tips
1. Please carefully check the following information;
2. Choose the right model
According to your request, we will provide you with the best service.
If you have any question or interest on our multi-purpose screw press or other food processing machinery, please feel free to contact us, we are ready for your service, we can also customize any petroleum machinery according to your requirement.