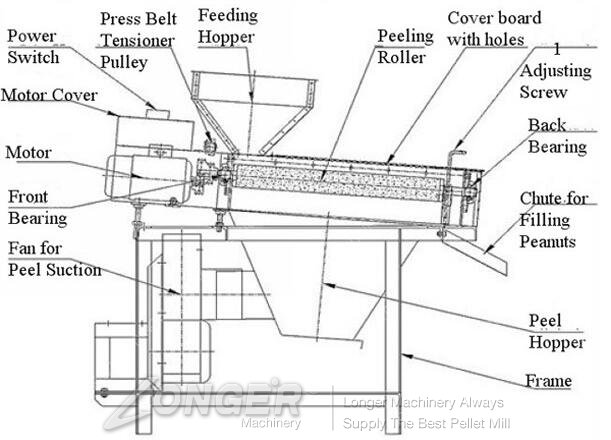 Peanut peeling machine
is suitable for peeling coat/skin of peanuts, beans, soybean, almond and other grains. Especially for peanut and almond ;with low noise and low damage rate; It is automaticlly, easy for operation, simple maintenance, with high peeling rate of 96%.
The working principle of peanut peeling machine:
1. Check the parts firstly before starting this machine, such as screw, belt, machine machine, roller and fan etc., to make sure the machine with low noice in operation ;
2. Check the electric parts firstly, then start the fan machine, finally start running of main machine ;
3. Put the materials into feeder after drying, and close outlet of the machine, then watching from the window to make sure if the finished products are processed with right quality. If so, open the outlet door ;
4. The peanuts drying time and water container will affect the peeling rate, the user can decide its outing by adjusting the peeling impact ;
5. If peeling is of good performance, then just put the outlet door lower, in order to process bigger quantity in a short period ;
6. The new machine roller is not intensive enough, but better after use. That is, the longer the maching using, the better the peeling quality .
7. After processing finished, clean the machine carefully and make good maintenance. It's better for using of next time, and extend machine service life.
This machine is the most advanced peanuts dry desquamate equipment, with reasonable structure, smooth operation, long service life, clean rate higher characteristic. And many sets of combination to use, peeling quality to meet export standards. Mainly used for peanuts, peanut butter, milky white peanut milk, peanut particles of peeling before production.Roasted Peanut Peeling Machine can be used multiple combinations,to finish feeding,peeling,skin suction, sorting, cleaning, packaging conveyor, the peeling quality can meet export standards.