Wood Pellet Cooler with High Efficient

Release Lime: 2016-11-08

Source: Longer - Nut Processing Solution Provider
Biomass pellets or briquettes from pellet machine or briquette machine are with high moisture content above 16% and high temperature degree about 70-85℃, therefore cooler is necessary to low down material temperature to 3-5℃ higher than room temperature and for safely stored or transported in case the mildew.

Here is a high efficient wood pellet cooler ,let's to learn,counter flow wood pellet cooler is a necessity in cooling large capacity biomass pellets and wood briquettes to produce high quality biomass fuels. Works in the counter flow cooling principle, it can avoid pellets or briquettes cracking or breaking and cool particles rationally. Economic space occupation and easy to operate, nowadays the counter flow cooler is the ideal cooling equipment for pellets materials in China.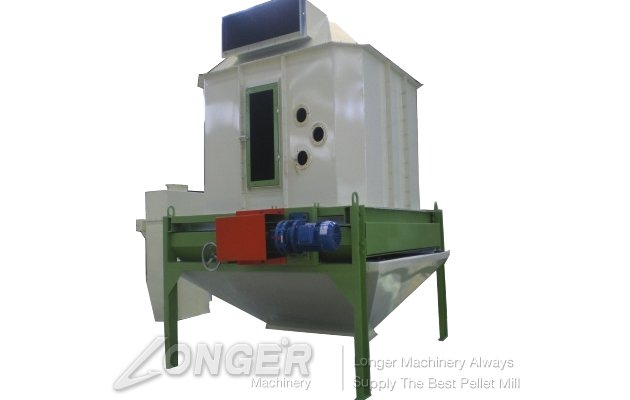 Counter flow Pellet Cooler Structures
1,Feeder line. Make sure proper and uniform feeding.
2,Outer drum. Used to collect feed raw materials and hot air. Equipped with observation door and window for easily fixing.
3,Cooling chamber. To cool the materials in a very short period of time.
4,Discharging hole. Driven by a gas cylinder or an electric motor .

Working Principle of Wood Pellet Cooler

Those wet and hot pellets from pellet machines are fed into the cooler and evenly distributed around the feed distributor. Cold air go through wood pellets vertically and contact cold pellets, the warm air contact warm pellets but moves oppositely to the pellets dropped direction, so that the pellets cooled gradually. This working principle prevents the cracks created by the contact of hot air and cold pellets. It is better than the traditional vertical type or horizontal type coolers.