In March 2022, as the first batch of cashews entered the pretreatment, roasting and seasoning workshops for large-scale processing, it marked the official start-up of the cashew pre-processing, roasting and seasoning production lines built by Longer and HSF in Nigeria. HSF The company opened the way of diversification.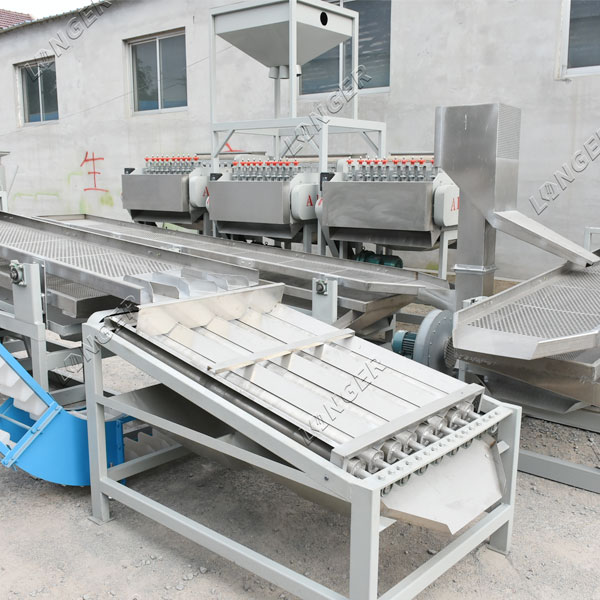 In the cashew nut pretreatment, roasting and seasoning workshop of HSF Company, technicians completed the operation and debugging of the equipment with the remote assistance of Longer engineers, and the production lines of intelligent cashew nut pre-processing, roasting and seasoning and other production lines started to speed up production. In the cashew nut pre-processing production line, after the cashew nuts are classified, cooked, shelled, separated from the shell and kernel, dried, humidified, peeled, graded and vacuum-packed, a bag of white and uniform raw cashew nuts is produced; After the kernels are roasted, cooled, seasoned and packaged, bags of finished cashew nuts are out of the warehouse.
Incredibly, HSF Company, which was mainly engaged in oil business before, decided to enter the
cashew nut processing
field relying on Nigeria's rich cashew nut resources and existing marketing channels. For the sake of safety, HSF has authorized the leading cashew processing enterprise in Abuja to participate in the whole process of equipment procurement, and this enterprise is an old customer who has cooperated with Longer Nut company for many years.
A matter of being trusted by others. Although the old customers of Longer did not hesitate to lock the Longer Nut Company, they still confirmed the details of the overall project, equipment,transportation payment, and after-sale terms many times. Longer Nut Company learned that HSF Company was preparing for a new factory at that time, and a service team was specially set up for this purpose to provide it with a series of professional services including factory area planning, production process, sales and market research.
HSF Company spoke highly of Longer Company's professional and meticulous customer service, and believed that Longer Nut Company is not only an equipment supplier, but also a strategic partner, and actively signed a cooperation agreement with Longer Nut Company. In response to the equipment installation and debugging issues that customers are most concerned about, Longer Nut Company designated exclusive engineers to directly connect with HSF company engineers, which improved the efficiency of communication and promoted the smooth development of the overall cooperation process.
Usual customers are valuable resources of the company. With excellent quality and professional service, new customers will eventually become old customers. Longer Nut Company must live up to its trust and help customers deepen the development of food processing business.