Features
The process flow of
almond butter production line
: raw material - removing stone to miscellaneous - roasting - cooling - and peeling - Selection - rough mill - blending - fine grinding - cooling - degassing - filling.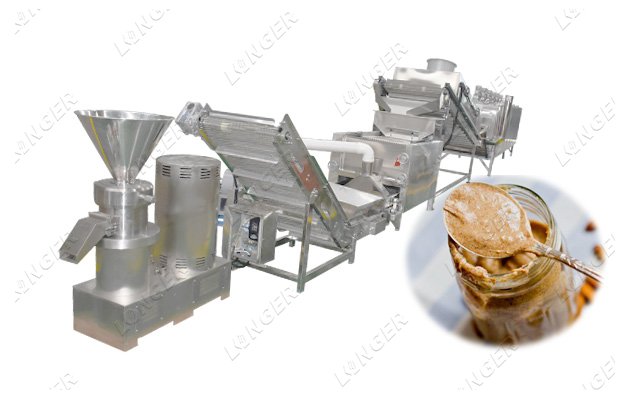 The main equipment of the
almond butter processing machinery
: the baking, the cooling belt, the desalting machine, the picking belt, the rough mill, the ultra fine grinding, the condensing machine, the degasser and the filling machine.
Roasting: baking almonds.
Cooling zone: the principle of using the fan out of the hot air and cooling the baked almonds.
Peeling machine: dry and baked for almond peeling, automatic separation of picometers peeling process, ensure the quality of the peeled almonds.
Pick: pick out unqualified almonds and some food residue.
Rough grinding machne: the first grinding of almonds.
Superfine grinder machine: further grinding the apricot after coarse grinding, and further improving the processing fineness.
Condensing machine: cooling the ground almond paste after grinding.
Degassing tank: degassing almond paste before filling.
Filling: filling and packing.
The
almond butter processing plant
we research and manufacture has undergone a number of improvements and optimizations based on the market demand, the core equipment rough grinding machine and the refiner in the complete set of equipment, and the processing fineness has been further improved. The complete set of equipment production line has a high degree of mechanization, reliability, and fully sealed production. Has a simple operation, smooth operation, low noise, easy maintenance, corrosion resistance, wide use, variety, etc.. In the domestic and foreign markets are popular.