Features
The automatic cocoa bean separating machine is fully automatic, with high peeling rate and no pollution.
Cocoa bean crushing machine and winnowing machine are mainly used for the peeling of cocoa beans, and then the peeled cocoa nibs are obtained. This machine is a must-have machine for cocoa bean processing plants.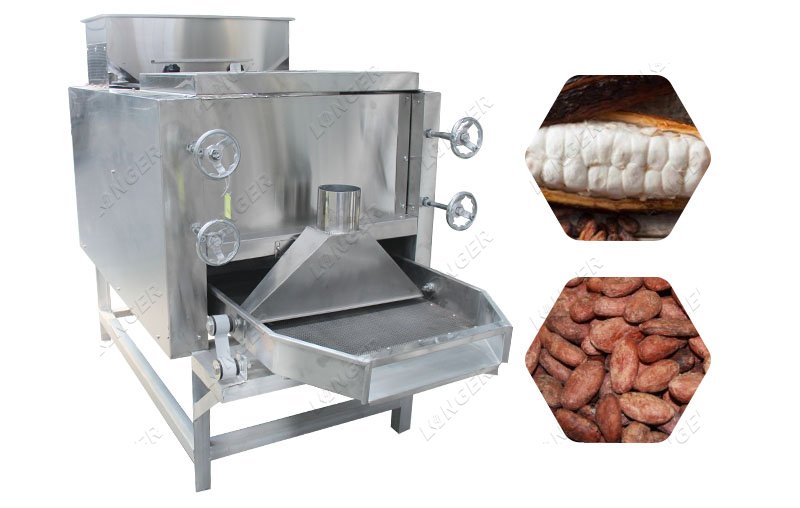 Advantage of Cocoa Bean Crusher Machine:
l The peeling rate is high, up to 90%.
l The whole kernel rate is high. Peeled cocoa beans are beautiful and have low material consumption.
l Environmentally friendly. The fan automatically adsorbs the cocoa hulls, which does not pollute the environment.
l Efficient peeling. The vibrating screen can effectively and cleanly separate cocoa beans.
l The structure is reasonable, the noise is low, and the floor space is small.
Working Principle of Automatic Cocoa Bean Separating Machine:
1. Roasted cocoa beans should be used.
2. The cocoa beans are removed by squeezing the cocoa beans through three rubber rollers.
3. The cocoa peel is separated by a low-pressure fan during vibration and transportation.
4. The cocoa beans are crushed and crushed and separated by a vibrating screen.
Structure of Cocoa Bean Crushing Machine
:
Hopper --- vibrating screen --- rubber roller --- vibrating screen structure and specific gravity separation structure.
This cocoa bean crusher machine has the characteristics of high degree of automation, high peeling rate, low noise, no pollution, etc. This automatic cocoa bean separating machine is an ideal choice for the food processing industry. Fully automatic peeling, simple operation, mass production can be realized.