Features
This gas peanut roasting machine is for industrial use, with high heat utilization effect, high product quality and low production cost. It can be customized according to the needs of customers, with advanced technology and long service life.
Features of Gas Peanut Roaster Machine:
1.The temperature is controllable. The heating temperature is adjustable between 0-300 degrees to achieve constant temperature roasting. Automatic temperature control device and time control device can prevent the product from over-roasting.
2.Roast evenly. The interior adopts a continuous roasting and cooling structure, the material is constantly roasted during the roasting process, and the heat penetrates evenly.
3.Energy efficient. Use high-quality thermal insulation cotton as the thermal insulation layer to avoid heat loss.
4.long lasting. The whole salted peanut roaster machine adopts a solid frame structure, compact structure and durable.
5.It is easy to operate and easy to maintain.
Working Principle of Industrial Peanut Roasting Machine:
Continuous roasting mesh belt and roasting cooling system are adopted to realize roasting and cooling in one step.
During the roasting process, the peanuts are continuously pushed by the heating zone in the machine. The heating device provides continuous and uniform heating, forming an uninterrupted cycle, which effectively guarantees the quality of roasting, and the nuts do not touch fireworks and avoid material pollution.

Peanut Roasting Machine Video:
Advantage of Salted Peanut Roaster Machine:
1. Unique roasting and cooling integrated system, uniform heating and sealing. The grilling cover of the product can be opened, which is very convenient for inspection and maintenance.
2.Stainless steel heating zone. The temperature can be adjusted by the thermostat.
3.The outer layer of the machine is made of high-quality asbestos thermal insulation material, the performance of the thermal insulation layer is good, and the thermal efficiency is high.
4.This industrial peanut roasting machine is easy to operate. The switch can be filtered and separated without manual separation.
5.Using copper wire motor, energy saving, low noise and long service life.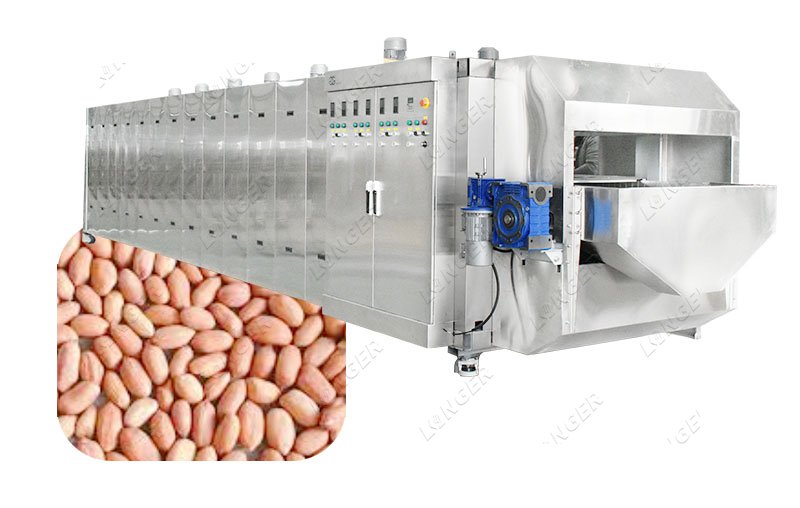 This peanut roaster machine for sale and widely used in the roasting and processing of nuts. We also provide good pre-sales consultation and after-sales service. Welcome to contact us for more information.