Features
Small scale cocoa processing equipment is the manufacture of cocoa powder from cocoa beans (the raw material). Cocoa products include cocoa butter, cocoa powder, and cocoa liquor. All are ingredients used in the making of chocolate, confectionery, and chocolate-flavored food & beverages.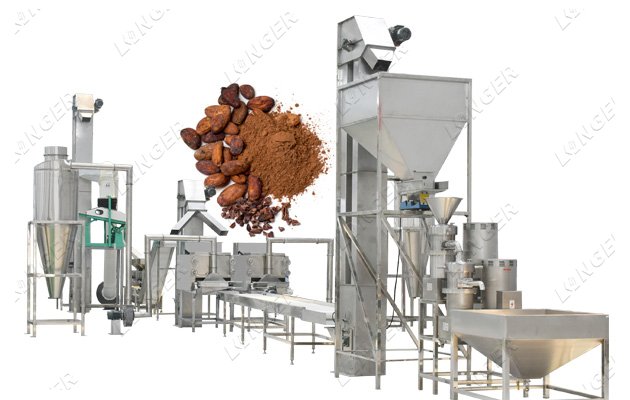 The expansion from the cocoa processing facility was made in two phases. The first phase included the process for processing cocoa beans into cocoa mass. In an original operation, the dried, green beans are cleaned, weighed and stored as clean raw materials.
While in the 2nd phase, the beans are subjected to a thermal treatment method below high stress at a temperature of 220°C so that all bacteria are destroyed. This is certainly followed by bean toasting, through which the moisture is extracted.
Last but not least, the cocoa beans are crushed as well as hulls are separated from your bean fragments identified as nibs. Only now is it probable to grind the cocoa nibs in two course of action phases. For the duration of this mechanical grinding operation heat is produced which makes the cocoa mass melt. The liquid cocoa mass (liquor), with a temperature of about 80°C, is directed to storage tanks, where it is cooled to 45–50°C. From the tanks, the mass is moved to a cooling tunnel the place the heat is extracted as well as cocoa mass is formed into blocks weighing 25kg every single.
Welcome contact us freely, we can provide you the suitable solution according your detail demands.
What will you get from cocoa bean? See the picture.