Features
Introduction:
2018 New Industrial Melon Seed Shelling Machine
is made of the cleaning part and hulled sorting parts.The cleaning and grading part composes feeding funnel, screw elevator, shaker, bucket elevator and classifying screen.
The melon seeds shelling and sorting part composes feeding funnel, bucket elevator and shelling part.This machine is used for shelling black seed, pumpkin seed, hanging melon seeds,winter melon seeds, watermelon seeds.
Firstly, the machine clean and grade the seed materials by cleaning and grading part, the classified seeds of materials are hulled by hulling sorting part after soaking, and then remove skin, screen and sort the hulled and un-hulled seeds.
Working process of the melon seeds peeling machine :
Raw material----feeding to the tank---- decontaminate( clearing the rock, soil block and other impurities our)----Sorting( classify the pumpkin seed to 6-7grades)----mixing----shell pumpkin seeds according to grade---- drying the final product----finished product storage---- packing---selling.
This pumpkin (melon) seed shelling machine is the best equipment shelling machine is this line of business.
Advantages of pumpkin seeds shelling machine:
Our this type of pumpkin (melon) seed shelling and sorting unit is patented product of our autonomous intellectual property. The pumpkin seeds hulling machine can finish shelling, peeling and sorting of raw material by one equipment. The features of the melon seeds peeling equipment is low energy consumption, compact structure, taking up little space, low loss of seed, simple operation and convenient to maintain. Whats more, the melon seeds shelling machine has a high degree of automation, has greatly increased the degree of automation, It is the best white melon seed and pumpkin seed processing equipment worldwide at present. In addition, we supply machine according to customer's need. Customers need to make sure how many grades of their seeds, and then we can supply the machine for them. For the grading method, we will tell customers when they inquiry.
For the melon seeds, beside the melon seeds sheller machine, we also have melon seeds roasting machine, melon seeds packing machine. All the machine are for sale.
The melon seeds shlling machine also can process sunflower seeds. The sunflower seeds shelling machine for sale is great helper for sunflower seeds business.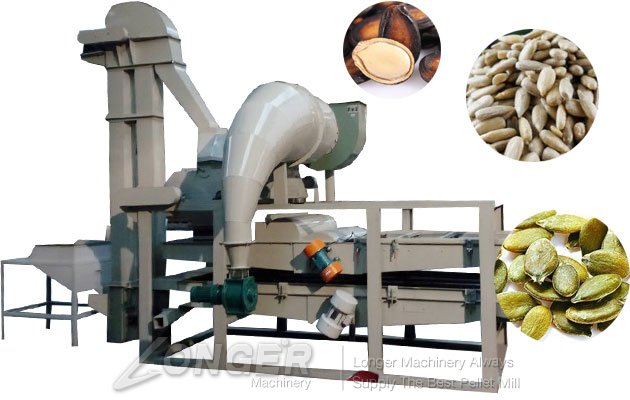 What are the benefits of watermelon seeds?
1:Promote heart health:
The melon seds, pumpkin seeds, sunflower seeds and other seeds are with much nutrition. That why the peeled melon seeds are so popularity.
Magnesium in watermelon seeds greatly promotes heart health. It helps normal heart function and regulates blood pressure.
Watermelon seeds are good for the heart. Watermelon seeds can help lower blood pressure. Watermelon seeds are also rich in zinc, which plays a key role in heart health.
2:Strengthens immune system
Melon seeds have are packed with iron,specially roasted melon seed. And more, Minerals can enhance immune function. That is why there is so many melon roasting business with melon roasting machine.
3. increase the fertility of men
According to a Chinese study, zinc in watermelon seeds can significantly improve the sperm quality of infertile men. Therefore, zinc in watermelon seeds is very important for male reproductive system.
4. aid in the treatment of diabetes
According to a study in Iran, watermelon seeds play a positive role in the accumulation of glycogen, which can help diabetes treatment.
Zinc in the seed is found to be beneficial to blood sugar control.
5. improve brain health
Magnesium in watermelon seeds helps to improve memory. It can also combat memory defects associated with aging. Brain magnesium can improve memory and even speed up learning.
6. enhance the health of the digestive system
Magnesium in watermelon seeds can activate enzymes that help the body absorb nutrients. Enzymes can help the body break down food and digest it better, and help to produce and transport energy in the process of digestion. If there is a lack of magnesium, it can cause indigestion.
7. strengthen the hair
In addition to strengthening hair, it can also promote hair growth. Because magnesium plays a role in preventing hair breakage.
8. clean skin, improve skin health
Magnesium in seeds helps to improve the overall appearance of the skin. It can reduce acne and treat other skin problems. Magnesium also helps to resist pressure, and in a sense, it can reduce acne. Zinc can also be used to treat herpes simplex infection and accelerate wound healing.
9. slow aging