Features
The automatic potato chips weighing and packing machine is mainly used for packaging granular products, such as sugar, salt, coffee beans, rice, beans, peanuts, seeds, grains, nuts, chocolate beans, potato chips, frozen dumplings, cereals, tea, detergent , desiccants, etc.
This automatic weighing and packing machine can automatically complete the following work: material lifting, combination scale measurement, coding, bag making, filling, inflatable exhaust (optional), sealing, counting, finished output, and Finished product.
Advanatges of Automatic Potato Chips Weighing Packing Machine
1. It adopts PLC servo and pneumatic control system. The large touch screen constitutes the core of drive control; It has high reliability and intelligence, and it is equipped with safety protection.
2. Touch screen can store a variety of different product packaging process parameters, when the replacement product can be used at any time without re-setting.
3. With a fault display system, failure, at a glance, in order to promptly rule out.
4. According to customer needs customized punching knife seat.
5. The machine has two options of stainless steel model and carbon steel spray model.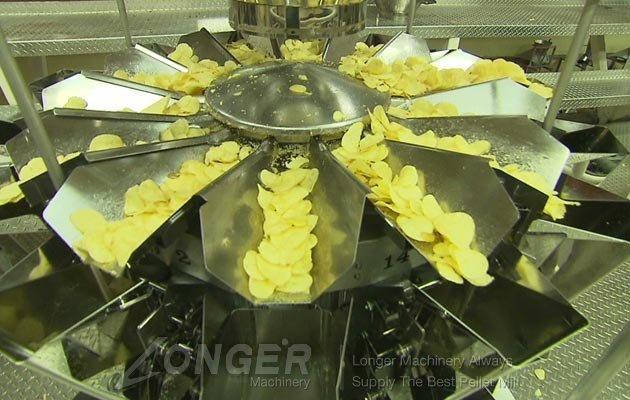 This automatic weighing and packing machine consists of computer cobination scale, Z type bucket, and
Computer combination scale, supporting platform, produce conveyor, etc. Following will introduce parts in details:
1. Computer combination scale
Applicable for packing candy, seeds, potato chips, pistachios, peanuts, jellies, frozen dumplings, biscuits, chocolate, nuts, pet food, puffed foods, hardware, plastic parts and other granular, flake, strip, not regular sized materials are weighed.
Combining high-precision and high-speed, computer-based calculations instantly select the precise combination from a rich combination of weights.
2. Z type bucket
Z-lift is suitable for vertical lifting of food, particles, chemicals and other irregularly-sized objects. The hoisting machine drives the hopper to lift through the chain drive, which is used to transport particles and small pieces of material vertically. It has the advantages of large lifting volume and high lifting degree.
All gears are thick, smooth and quiet.
The chain is bold and the operation is more stable.
Conveyor hopper is half-style, it will not lose material and lose bucket.
Fully enclosed, clean and sanitary, in line with food safety standards, non-food grade can use carbon steel materials to save costs.

3. Supporting platform
The platform is not easy to shake, beautiful and elegant, the table is made of non-slip pattern aluminum, surrounded by guardrails, practical and safe.
Technical parameters: According to model size, table width: 1.8m*1.8m, 2m*2m, height: 1.8m, 2m, 2.2m, 2.4m
4. Product conveyor conveyor
The machine can transport the automatically packaged finished bag to the post-packaging inspection equipment or packaging platform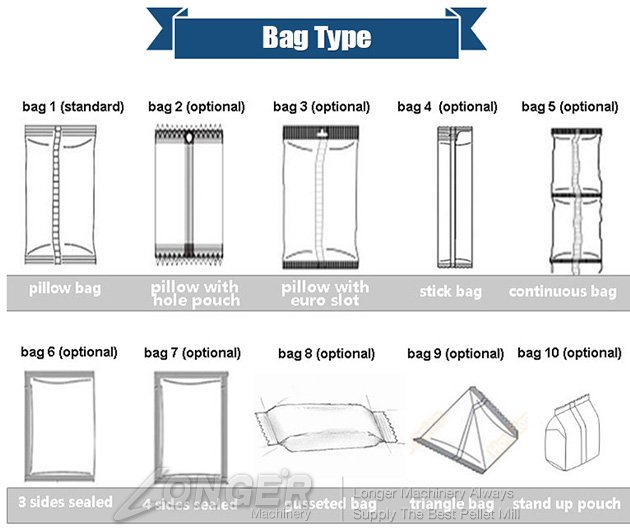 Optional device
1: Order another shaper and replace the shaper
2: Gusset device: The Gusset device is used to add a gusset function at the bottom of the bag to make the bag stand up. The classic representative is the Quaker oatmeal package.
3: PE film device: Packaging film is generally divided into two kinds of PE film and composite film. Each has its own advantages. The PE film has a soft texture, low temperature resistance, and low cost. Composite film high grade, harder than PE film, the price is slightly expensive. However, different films have different requirements for the packaging machine. The standard packaging machine uses composite film. If the customer chooses a PE film as a roll, it needs to add a PE device.
4: Vacuum pumping device
5: Collection bucket device
6: Punching device