Features
This commercial almond butter grinder is a multifunctional machine, sesame butter, almond grinder nut grinder, almond nut butter and so on. And this almond paste making machine has the characteristics of simple operation, stable operation, low noise, convenient maintenance, corrosion resistance and wide range of uses. Our company and our products are very popular at home and abroad.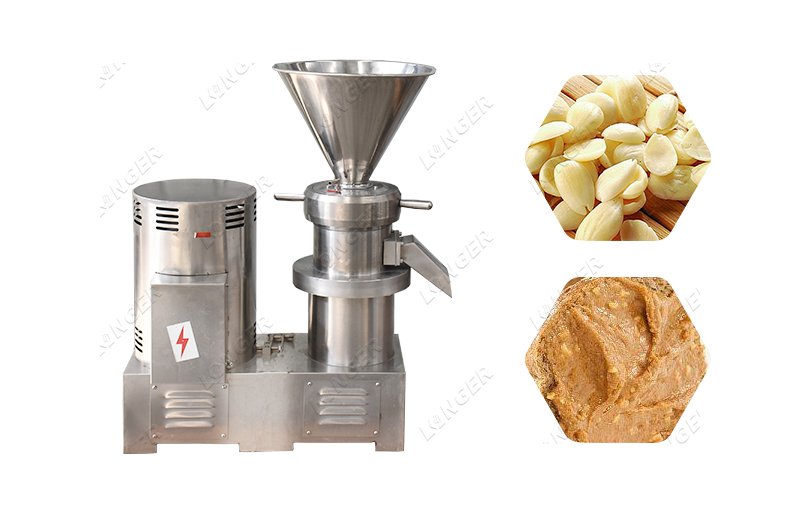 Advantage of Nut Grinder to Make Almond Butter:
l Almonds can be raw or roasted, and the ground sauce is used for different flavors or uses.
l By adjusting the size of the gap between the stator and the rotor, different grinding fineness can be obtained.
l Made of all stainless steel, durable, hygienic and safe.
l Low noise and high efficiency.
Structure of Commercial Stone Grinder for Nut Butters:
The commercial almond butter grinder is a special fine grinder for almonds. It is mainly composed of a housing, a stator, a rotor, an adjustment mechanism, a cooling mechanism, and a motor.
There are different types of almond paste making machine can be chosen, various specifications, the main parts are made of stainless steel, corrosion-resistant, long service life, and safe and harmless to the human body.
Features of Nut Grinder to Make Almond Butter:
1. The main components are made of high-quality stainless steel, which is corrosion resistant and harmless to the human body.
2. The main components of the stator and rotor adopt special processing and heating technology, which has a long service life.
3. The commercial stone grinder for nut butters is equipped with a cooling system to ensure the quality of finished products.
4. Customers can customize the machine according to different needs.