Features
The almond milk processing machine is used to grind almond and Water into almond milk.
The main parts of the commercial almond milk machine are made of stainless steel, which is corrosion-resistant and non-toxic. Different specifications and models of colloid mills can be selected according to different material characteristics, production efficiency, and different purposes to achieve good results.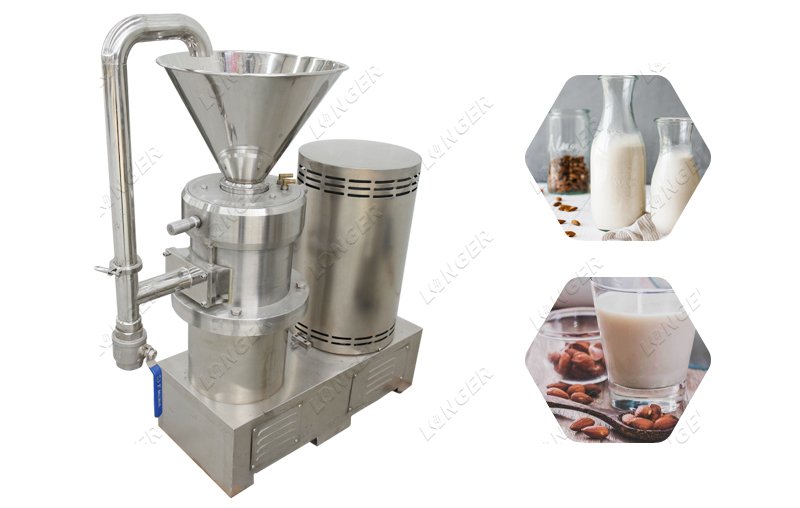 Benefits of almond milk maker machine:
1: Ultrafine pulverization of the solids in the suspension can be achieved in a very short time, that is, the micronization has the functions of mixing, stirring, dispersing and emulsification at the same time, and the particle size of the finished product reaches 50μ m;
2) High efficiency and output, the output is as high as 6t per hour. If you want a small output, you can also provide you with other small output equipment;
3) By adjusting the gap between the two mill bodies, the minimum can reach 50μ m, which can effectively meet the requirements of the fineness of almond milk;
4) The almond milk maker machine has simple structure, convenient operation and small floor space.
5: Multifunctional use: In addition to being suitable for almonds, it can also be used for peanuts, soybeans, tomato paste, garlic, etc.
Working principle of almond milk processing machine:
Almond milk making machine is driven by a motor, which drives a rotating tooth and a matching fixed tooth (or called a stator). When the almonds pass through the gap, the high-speed rotation of the rotor produces a sharp speed gradient, so that the almonds are subjected to physical effects such as strong crushing, friction, high-frequency vibration, and high-speed vortex, so that the almonds are pulverized. Almond milk can be effectively emulsified, dispersed, homogenized and crushed to achieve the effect of superfine crushing and emulsification of almonds.