Features
This make walnut paste machine is used to make nut butter, such as walnuts, peanuts, almonds and other materials. The walnut buter making machine has the characteristics of large output, convenient operation, low noise, corrosion resistance, and easy cleaning.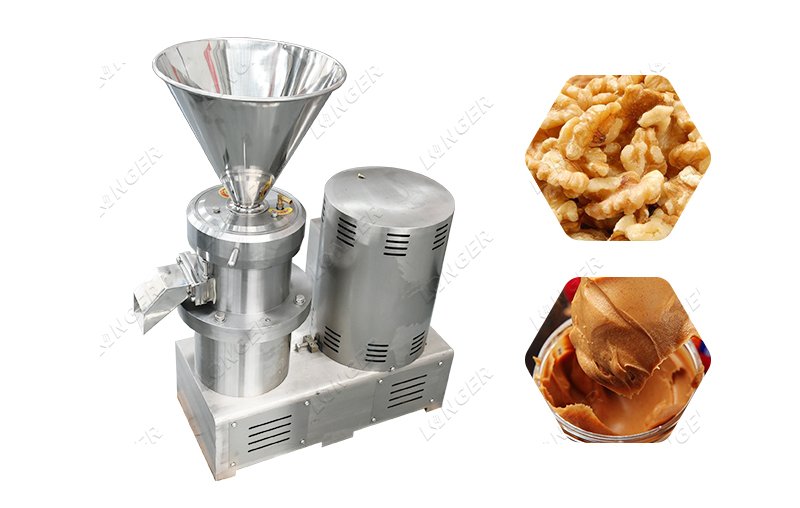 Advantage of Walnut Grinder Machine:
1. The product is delicate. Grinding fineness can reach 80-100 mesh.
2. Unique design. The unique gate structure and grinding part effectively solve the leakage problem of the walnut butter machine.
3. The finely designed grinding part makes the slurry flow smoothly, with less material accumulation and easy cleaning.
4. Rolling distance adjustment mechanism, easy to adjust.
5. The walnut grinder electric adopts special technology and has high output.
6. Clean and sanitary. The entire working flow channel from feeding, grinding to discharging is made of stainless steel.
Features of Make Walnut Paste Machine:
l High efficiency and high output, the output is about twice that of the ball mill.
l The gap between the stator and rotor is adjustable. The gap between the stator and rotor is very small, and the machining accuracy is high. By adjusting the gap between the two grinding bodies, the minimum particle size of the finished nut butter can reach 80-100 mesh.
l The structure of walnut buter making machine is simple, the operation is convenient, and the floor space is small.
l Except for the motor and parts, all parts of the walnut grinder machine are made of high-quality stainless steel, which has good corrosion resistance and durability, so that the processed materials are clean, pollution-free and hygienic.
l The diameter of the water circulation pipe is large, the flow rate is large, the material temperature is greatly reduced, and the taste of the product is closer to natural.
Application of Walnut Grinder Electric:
Wide range of applications. It is widely used in the food industry, chemical industry, pharmaceutical industry, daily chemical industry, construction industry and other industries, the make walnut paste machine is suitable for a variety of materials.