Features
Introduction of cocoa powder grinding machine:
The cocoa powder grinding machine can grind cocoa cake into cocoa powder. The cocoa powder mill machine has simple structure, firmness, stable operation and good grinding effect.
Coco cake can be directly discharged from the grinding cavity of the cocoa powder pulverizer. The fineness and particle size of cocoa powder can be obtained by changing mesh sieves with different apertures. In addition, the cocoa powder pulverizer is made of stainless steel.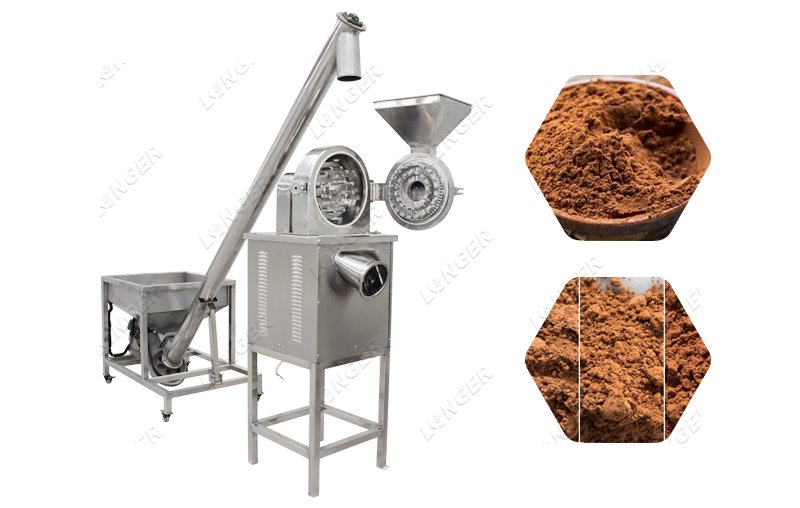 Cocoa Powder Pulverizer Advantageds:
Our cocoa powder grinding machine uses a motor directly connected to the crushing device, which is simple and easy to maintain.
The cocoa powder crushed in the crushing chamber enters the collection chamber through the discharge port. The operator can observe the collection of cocoa powder through the observation window installed on the panel of the collection box, and replace the collection bag or clean the collection bag if it is qualified.
Cocoa Powder Mill Machine Structure and working principle:
The cocoa powder grinder machine consists of three parts: a frame, a crushing chamber, and a hopper. The main shaft is equipped with a movable toothed disk, a movable knife is installed on the movable toothed disk, a fixed toothed disk is installed in the crushing door, and a fixed toothed ring with steel teeth is installed on the fixed toothed disk. The movable knife and the fixed toothed ring on the movable toothed disk are arranged alternately. . When the main shaft is running at a high level, the movable gear sleeve rotates relative to each other, and the material is crushed under the combined effects of mutual impact, friction, shear, and material impact between the fixed teeth and the movable teeth.