Features
The multifunction nut powder grinding machine also called nut milling machine , it can grind various nuts into powder, such as almonds, peanuts, walnuts, and sesame seeds after
roasting
. Nut powder flour is becoming more and more popular in our lives.
In order to meet the needs of customers, our company has developed a multi-functional nut milling machine. It is suitable for factories of different scales, whether you are a large nut processing factory or a farmer who just started the nut milling business. Can meet your needs.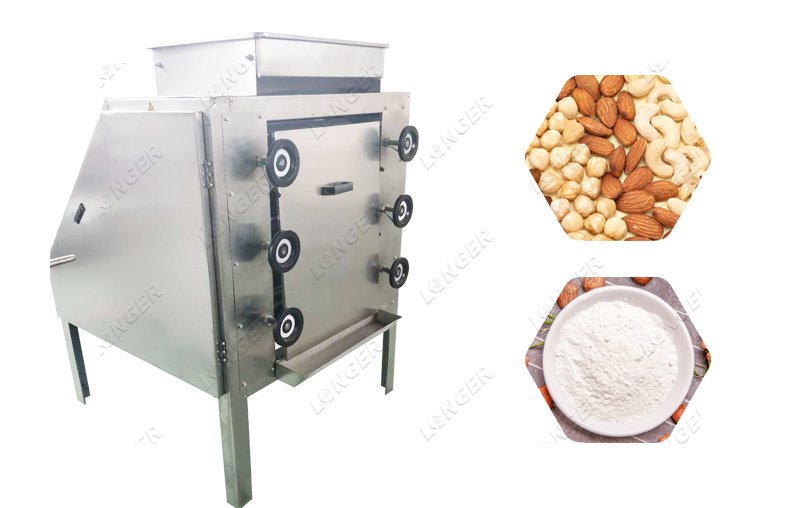 Working principle of nut powder making machine:
The pulverizer is composed of a feeding hopper, a pair of roller cutters and other parts. The hopper spreads the nuts evenly between the pair of rollers by adjusting the gap of the insert plate, which is beneficial to the hob to evenly chop the nuts. After multi-stage shredding, nut powder can be obtained.The fineness of the finished product processed by the nut powder grinding machine is 40-60 mesh.
Operation points of nut powder making machine:
1. Before starting the machine, check whether the circuit is normal and whether the rotating parts are loose or abnormal.
2. Before loading the peanuts, use the supporting equipment (peeling machine or half-grain machine) to remove the red skin, and use milky white rice as the cutting material.
3. The material is cut from the upper hopper to evenly scatter the material between the pair of rollers by adjusting the gap of the insert plate, and the control is uniform and synchronized to ensure the normal operation of the shredder.
4. By adjusting the handles on both sides of the counter roller, the gap between the counter rollers can be changed to achieve the control of the size of the particles.
Nut Powder Making Machine Maintenance:
1. We should always check whether each transmission part is short of oil and whether there is any abnormality. If an abnormality is found, it needs to be dealt with in time.
2. Whether the lifting conveyor belt of the almond powder grinder is running off-track, adjust the bolts on both sides to ensure normal operation.
3. Before using the nut powder making machine, pay attention to whether the gap size is consistent when adjusting the rollers to ensure that the output particles are consistent in size.
4. Ensure that there are no stones and sundries in the processed nut materials. Avoid damaging the conveyor belt and cutter. Cause unnecessary waste.