Features
The peanut chopping machine is a special equipment for chopping nuts, such as peanuts, almonds, hazelnuts, cashews, etc. The size of the crushed nuts is 2-10 mm. The peanut shredder machine is fully automatic, with large output and good quality.

Working Principle of Peanut Particles Cutting Machine:
This peanut crusher machine uses a hob to cut peanuts. The peanut material in the hopper is sent to the conveying device from the feeding device, and then cut by the hob. The shredding blade cuts the material at a certain speed. By adjusting the size of the blade spacing and cutting speed, the material is cut into different sizes. The chopped peanut particles are sorted and collected through a vibrating screen.
Advantage of Peanut Chopping Machine:
1. The body and the crushing tank are made of stainless steel, which ensures the quality and hygiene of the product.
2. As the most important part of the peanut shredder machine, the blade of the peanut grinder is made of high-quality high-speed steel, with sharp cutting edges and long service life.
3. The peanut particles cutting machine is suitable for peanuts, almonds, cashews and other nuts, and can be cut into pieces of different thicknesses.
4. Peanut crusher machine are widely used in food factories, processing shops, shopping malls, supermarkets, pharmacies, schools, research institutes, families and other units.
5. Because we are a manufacturer, the price of our peanut cutter is the most favorable.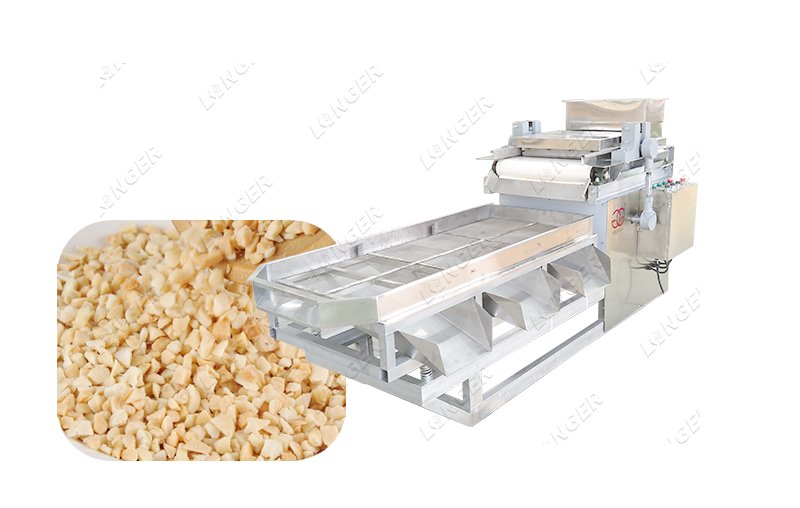 Instructions for Use of Peanut Chopping Machine:
l By adjusting the connecting rods at both ends of the knife holder, the knife is parallel to the belt bottom plate to adjust the gap.
l The size of the cutting particles is controlled by the conveyor speed according to user requirements. Faster belt speeds have larger particles, and slower belt speeds have smaller particles.
l The crushed materials enter the vibrating grading screen, and the qualified debris falls into the storage hopper under the screen.