Features
This pistachio strips cutting machine can also be used to process a variety of materials, such as peanuts, almonds and other materials. The material is made of food grade stainless steel, which is safe and harmless to the human body. The peanut stripping machine is widely used in the food processing industry. The finished products are used as ingredients for cakes and biscuits.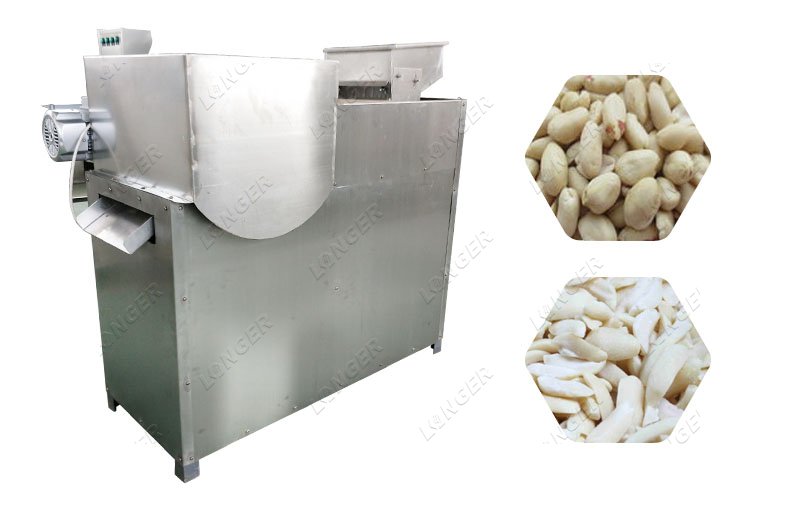 Advantage of Pistachio Strips Cutting Machine:
l The blade material is good. The blade is made of high-speed steel, the blade is sharp, has a long service life, and is harmless to humans.
l Stainless steel material. The body is made of stainless steel, which is safe and healthy.
l The peanut slivering machine structure is reasonable. Adopt the most advanced technology in China, save resources and reduce waste.
l The cut finished product has uniform size and beautiful appearance, which is the best choice for food processing.
Working Principle of Peanut Stripping Machine:
Pour the pistachios into the inlet and send them to the knife roller by the vibrating device. The pistachios are evenly distributed by the vibrating device. The knife roller will cut the pistachios into even-sized pistachio strips with smooth edges. The pistachios will automatically pass through the outlet and the be collected.
Structure of Peanut Slivering Machine:
It consists of a feeding device, a knife roller, a discharging screen and a motor. It is also suitable for the production of peanuts, almonds and other nut bars.
Precautions for use of Pistachio Strips Cutting Machine:
l Choose to use the machine on a stable ground. If the machine has wheels, pay attention to fixing the wheels.
l Check the machine for foreign objects before use.
l Before using the machine, you should open the machine in advance to check whether the machine can operate normally, and then pour the materials.
l After use, cut off the power in time before cleaning the machine.
l Pay attention to sharp parts such as blades when disassembling and cleaning to avoid scratches.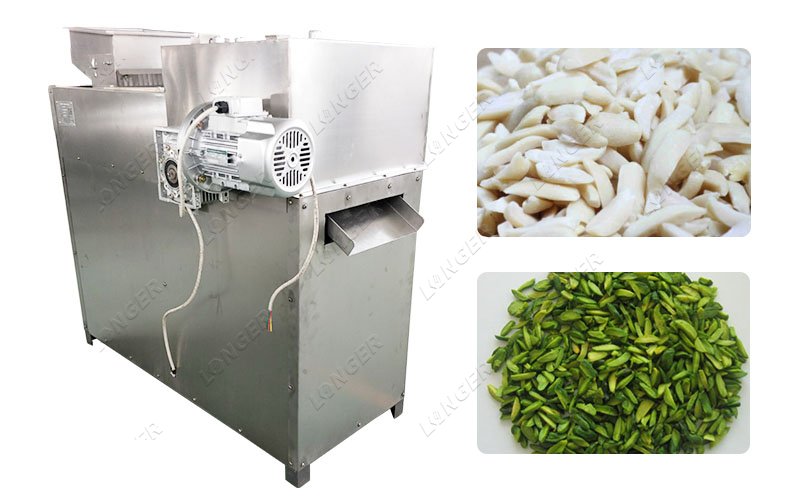 This peanut slivering machine has the best effect using raw peanuts and pistachios, and it can also be used with machines such as peanut peeling machine.