Features
This chocolate bean forming machine is a special equipment for chocolate molding. The chocolate bean making machine can be used for cooling and setting various shapes of pure chocolate beans, including spherical, oval, lentil, etc. The chocolate ball making machine has the characteristics of simple operation, sanitation and safety. It is an ideal choice for chocolate bean production plants in the food industry.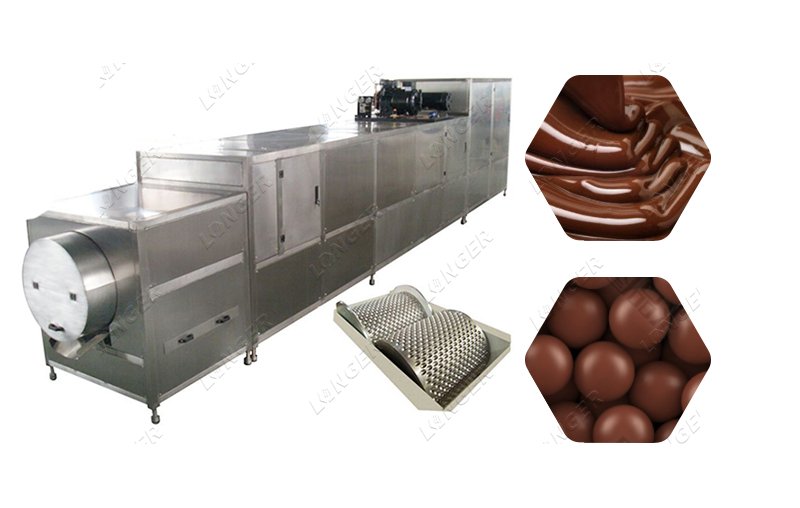 Working Principle of Chocolate Ball Rolling Machine:
Chocolate bean forming machine mainly includes cold roll, conveying system, cooling system, cooling system, separator and other parts.
The chocolate paste is poured on the surface of the mold through an automatic feeding device. The mold runs in a refrigerated state to instantly form a chocolate paste (from liquid to solid), which is automatically sent to the cooling channel by the conveyor belt for cooling and further shaping.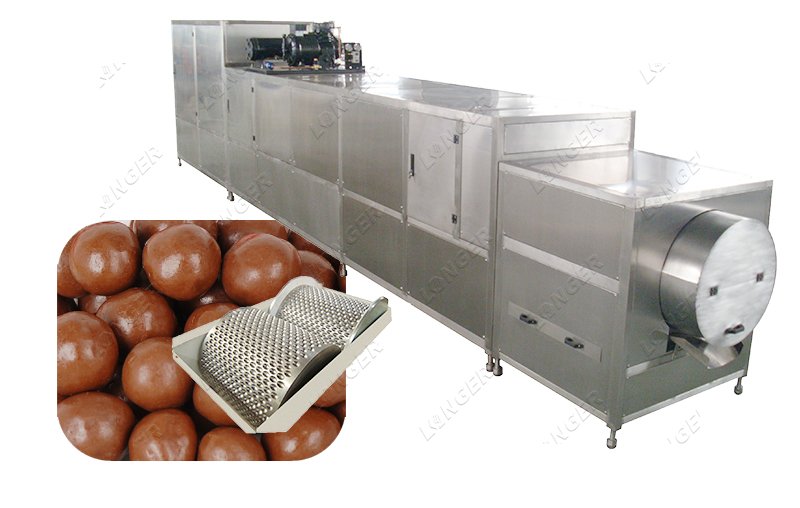 Advantages of Chocolate Bean Making Machine:
1. According to the different needs of customers, the machine can be equipped with single-head or double-head castings to meet different product shapes or color varieties.
2. The chocolate ball making machine adopts automatic control system, perfect combination of machine, power and pneumatic, convenient operation and high production efficiency;
3. This chocolate ball rolling machine adopts the most advanced motor in China, which is faster than similar equipment, quiet when working, and very energy-saving;
4. The production of chocolate beans is fully enclosed to prevent personnel from contacting the lower food hygiene standards and meet the food hygiene standards.
5. It has little effect on ambient temperature and humidity, and is a perfect series for many chocolate factories.
6. The chocolate bean forming machine has the advantages of low power, large capacity, good taste, high safety, convenient operation and high degree of automation.
7. The voltage is not a problem, we can make it according to the customer's requirements, and we can also carry out different capacities according to the customer's requirements.