Features
The chocolate enrobing machine manufacturers is mainly used to coat chocolate sauce on the surface of various foods such as candies, cakes, wafers, and fruits. You can choose to apply a coating on each surface of the food, or you can choose to apply a coating on the underside of the food. Small chocolate enrobing machine are now sold at the most attractive prices.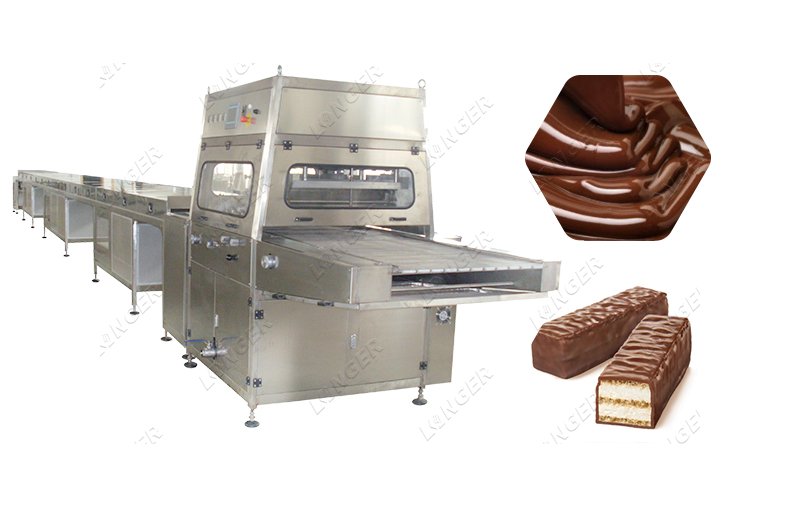 Advantages of Small Chocolate Enrober Machine:
1. This new type of chocolate coating machine is continuously improved and carefully designed by our factory. The appearance has been consistent with similar equipment in Europe and America, which is more beautiful and user-friendly.
2. This chocolate enrober for sale is simple and intuitive to seal the box and plate, the whole machine can be fully automatic, and the operation is very flexible and convenient.
3. The barrel design is lighter and more flexible, easy to clean without leaving dead corners;
4. The streamlined design of the hood makes the cooling more uniform and effective. The specially designed evaporator can effectively reduce the humidity of the cold aisle and better guarantee the quality of chocolate.
5. This chocolate enrobing machine manufacturers can apply chocolate sauce on the surface of food, or it can be applied on one side, which can meet the needs of different foods. The coating area is controlled by wind speed and vibration to control the thickness of the chocolate sauce. Surface coating
6. The conveyor belt of this machine is equipped with an automatic correction device, and the whole machine is controlled by a PLC touch screen.
7. The length of the whole small chocolate enrobing machine can be customized according to customer needs.

Working Principle of Small Chocolate Enrober Machine:
The chocolate enrober for sale continuously soaks the chocolate slurry through the slurry in the slurry hopper to achieve the coating. The barrel is detachable and easy to clean. Simply disassemble chocolate enrobing machine manufacturers, take the material out of the machine and clean it.