Features
Cocoa splitting machine is a professional equipment that uses advanced technology to peel the roasted cocoa beans, separate the skin and kernels, and then cut the cocoa beans into two parts. The cocoa beans hulling machine is the perfect choice for processing cocoa beans and factories.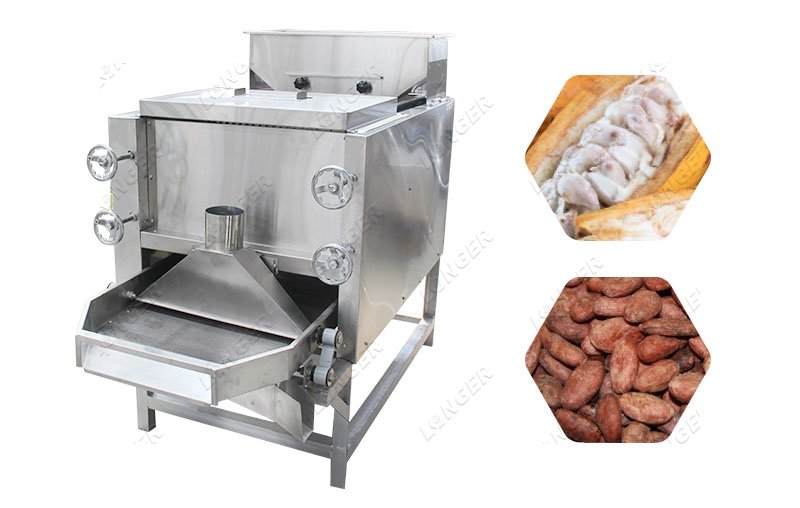 Advantages of Cocoa Bean Husk Remover Machine:
1. High peeling rate: machine peeling rate is as high as 99%.
2. Made of stainless steel, durable and beautiful in appearance.
3. Fully automatic control system, convenient switch and simple operation.
4. Digital design: By adjusting the air volume and peeling size, all the skins can be peeled off.
5. Wooden box packaging: The cocoa bean dehulling machine is packed in plywood boxes, one machine per box.
Working Principle of Cocoa Splitting Machine:
l There are two rubber rollers inside the cocoa beans hulling machine to crush the cocoa beans.
l Then the cocoa beans are produced from the rubber roller, and the cocoa beans are separated from the skin.
l The weight of the cocoa kernel is different from the weight of the skin. The cocoa granules are heavy and the cocoa peel is light. The fan generates wind, which can suck out the skin, and the cocoa particles are heavy and fall out of the outlet.
l Two knobs are used to adjust the distance between the two rubber rollers.
Features of Cocoa Bean Husk Remover Machine:
1. Raw materials such as cocoa beans need to be roasted first, then cooled, and then put the raw materials into the peeling machine.
2. High efficiency. The cocoa bean dehulling machine can process 300 to 500 kilograms of cocoa beans per hour.
3. Fully automatic equipment. Automatic peeling and slitting, convenient operation, time-saving and energy-saving.
4. Widely used in peanut food production plants, such as the processing of cocoa powder, cocoa butter, etc.