Features
The type roasting machine has both roasting and cooling functions. It is used for roasting, gas heating and electric heating of nuts such as peanuts, sesame seeds, almonds and melon seeds. It is a continuous equipment with roasting and cooling functions.
This baking and cooling integrated machine can be used alone or in conjunction with other equipment to achieve the needs of automated production. For example: stone removing machine, hoisting machine, distribution belt, peeling machine, sauce grinding machine, cooling machine, etc.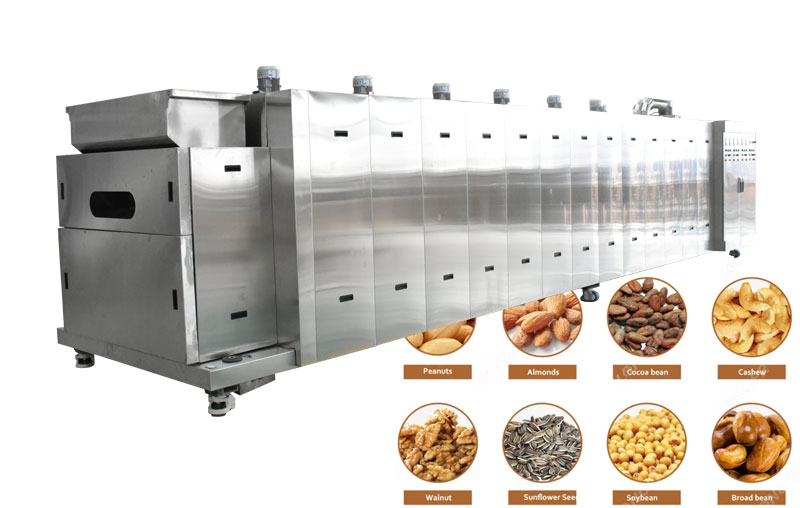 The main frame of the baking equipment is made of high-strength galvanized steel, the inner plate of the furnace is stainless steel, the outer surface is stainless steel, and the food contact plate is 304. The machine is of good quality and durable.
A new type of high-efficiency and energy-saving roasting machine developed by comparing similar products at home and abroad and integrating the advantages of each continuous roasting machine, the roasted product tastes pure. It has the advantages of energy saving and safety, sanitation and convenience, fast temperature raising, stable performance, good heat preservation, low power consumption, low operating cost, long service life, simple operation and maintenance, etc. Its baking quality meets food hygiene standards and international production standards.
Nut Roasting And Cooling Machine Application:
This machine is mainly used in food processing industry, beans, nuts, nuts (such as peanuts, milky white rice, boiled spiced peanuts, melon seeds, almonds, chestnuts, broad beans), etc. to reduce moisture, dry and roast cooked products.
Baking And Cooling Integrated Machine Principles:
The mesh belt baking machine is composed of a frame, a conveyor mesh belt, a heating device and a thermal cycle device.
The hopper on the front section of the equipment has a gate to control the thickness of the material layer. Choosing an appropriate material layer thickness for different nut air permeability can effectively ensure the uniform penetration of hot air.
The transmission belt is driven by a frequency conversion motor, and the running speed can be adjusted stably in a wide range. The baking maturity of the material is mainly controlled by the frequency conversion motor speed and the set temperature.
The heating device and the thermal circulation device make uniform circulating hot air in the oven. The hot air penetrates the material upward from the lower part of the mesh belt. The temperature controller can realize automatic temperature control. The temperature controller is a self-learning PID control algorithm, and the longer it is used, the faster and more stable the temperature will be.
The material thickness, the running speed of the conveyor belt and the set baking temperature can be matched properly to effectively ensure the ideal baking of the material.

Nut Roasting Cooling Machine Test Video: