Features
Introduction of Tiger Nut Milk Extracting Machine:
The automatic tiger nut milk extracting machine is specially designed for the production of tiger nut milk according to the highest quality standards,which has the most reasonable price.And the machine also can be used for making all kinds of butter,juice,milk and so on.The tiger nut milk extracting machine has the characteristics of compact structure, stable operation, low noise, corrosion resistance, easy cleaning and convenient maintenance,which will be your ideal and perfect machine for processing tiger nut. Our the
tiger nut milk process machine have been shipped to Nigeria
, Singapore, Vietnam ect.
Working principle of Tiger Nut Milk Processing Machine:
The working principle of the tiger nut milk processing machine is that under the action of centrifugal force, the high speed is operated between the rotating gear and the fixed gear, and the liquid and semi-liquid materials are effectively emulsified, homogenized, dispersed and mixed in the process. The entire work process is the process of cutting, grinding and shaking at high speed. After that, you can get the materials you are satisfied with and processed.
Advantages of Tiger Nut Milk Extracting Machine:
1.The motor and the grinding base of the tiger nut milk extracting machine are separated, have the advantages of good stability and convenient operation. The machine adopts labyrinth seal, no wear, corrosion resistance, less failure, and the material can be crushed finer by the transmission of the pulley and the increase of the rotation speed.
2.The tiger nut milk processing machine is driven by a special long shaft motor, which is compact, light in weight, small in footprint and low in noise.
3.The machine effectively solves the problem that the domestic small colloid mill can not work continuously for a long time due to insufficient power and poor sealing performance, and the overall structure is compact, the size is small, the sealing structure is reliable, and the working can be continuous for a long time.
4.The parts of the tiger nut milk machine contact material are made of stainless steel, with high hardness, which can crush harder materials.
5.The price of the tiger nut milk machine is the most favorable compared to other companies in China.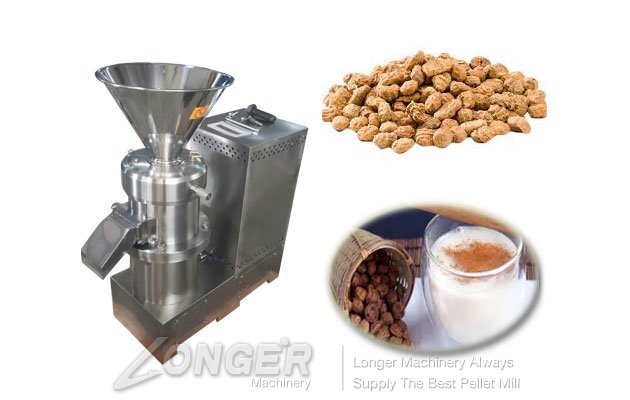 Our service for Tiger Nut Milk Machine:
1.The warranty period for our tiger nut milk processing machine is one year.
2.We can also provide overseas engineer services;
3.We can provide technical support by phone, email or video at any time.
4.We promise our customers that if the product has problems during the warranty period, we will solve all problems in time.