Features
The buckwheat hulling production line can automatically remove the buckwheat husks. And the shelling production line can also be applied to the shelling of quinoa and oatmeal. It is a more versatile shelling device. Widely welcomed by customers.
1.Quinoa Shelling Line Introduction
Buckwheat quinoa oat hulling is not the same as other grain hulling. Because buckwheat quinoa oat is in the shape of a conical trihedron, a round tablet, and a long point, the seeds can only be removed by light squeezing and tearing. released from the shell.
Buckwheat/quinoa /oat hulling line (hulling unit) is composed of a hopper, an elevator, a hulling and sorting host, and an electric control cabinet. The material is an upgraded product based on the sand tray wheat sheller and impact sheller. Buckwheat flows in from the feeding port, accelerates to the control speed in the screw propeller, and peels and scrapes the quinoa layer in contact with the elastic blade and screen, so that the skin layer is gradually peeled off, so as to achieve buckwheat shelling Purpose. This oat hulling line can realize automatic separation of kernels and shells while hulling, and can separate crumbs from kernels. Buckwheat hulling line can be used in a single set or in combination with leaf spring conveyor, wind conveying equipment, etc., which can greatly improve the degree of automation and reduce the use of manual labor.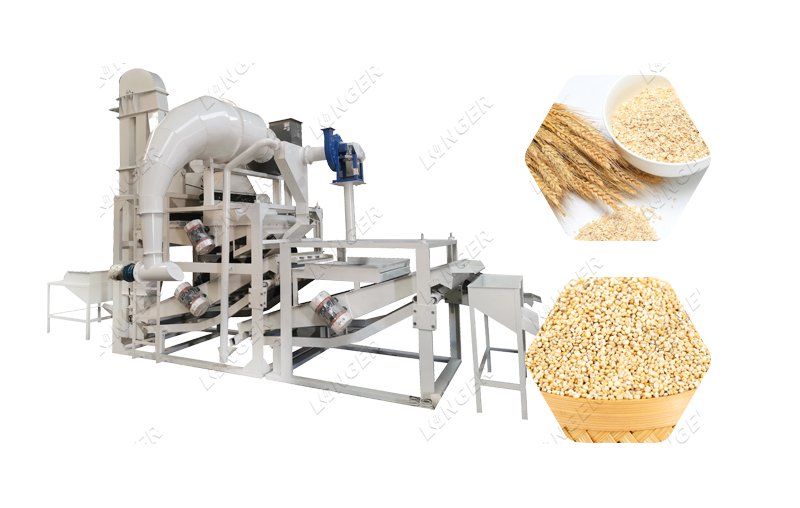 2.Oat Shelling Production Line Characteristics
The quinoa shelling line adopts an adjustable design, which can change the gap of the sand wheel according to the material conditions to achieve the ideal shelling effect. The adoption of vibrating negative pressure separator and screw unloader facilitates the collection of husks and reduces the generation of dust. The vibration source in the whole set of equipment adopts the form of vibration motor, and the installation of the equipment is convenient and fast.
The oat hulling line developed by our company adopts the dry hulling method. The shelling machine is easy to operate. The shelling rate is high, and the whole kernel rate is over 95%. It is an ideal equipment for processing buckwheat, quinoa and oats.
If you want more information about the buckwheat quinoa oat hulling line, you are welcome to call us at any time.